Munich's Alte Pinakothek is one of the city's most important art musuems, housing an impressive collection of Old Master paintings amongst other art from the 14th to 18th centuries.
With an excellent collection of works spanning the Medieval period up to the start of the 19th century, Munich's Alte Pinakothek is one of Germany's most important art museums and one of the oldest galleries in the world.
The museum, located in an imposing Neo-Classical building, dates back to the Wittelsbach family's personal collection of art in the 16th century. These days, it has grown to include several thousand pieces of art, not all of which can be housed in the Alte Pinakothek.
Masterpieces in Munich
Located in an area known as the Kunstareal, German for "Art District", Munich's art museums, or pinakotheken, are split into three eras. The Neue Pinakothek covers 19th century art, while the Pinakothek der Moderne exhibits modern art.
This one, as the name suggests, is home to the oldest art in the collection. The permanent exhibition showcases around 700 paintings, including a collection of Early Italian, Old German, Old Dutch and Flemish paintings that is considered one of the most important in the world, and significant works by the Old European Masters.
A treasure trove of art
For art fans, the Alte Pinakothek is a grand museum full of wonderful historic masterpieces, and makes for a fascinating visit for those interested in the Old Masters.
If you're into seeing more art in Munich, buy the Day Pass ticket for €12: you'll get access to all three Pinakotheken, plus the Brandhorst Museum (contemporary art) and the Schackgalerie (19th century German art).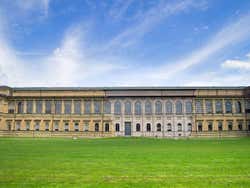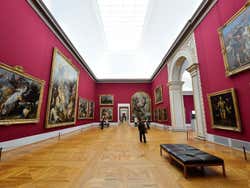 Schedule
Tuesday to Sunday: 10 am to 6 pm (Tuesdays until 8 pm)
Mondays: closed.
Price
Adults: € 7 (US$ 7.50)
Concessions: € 5 (US$ 5.40)
Sundays: € 1 (US$ 1.10).
Transport
Tram: Pinakotheken, line 27.
U-Bahn: Königsplatz or Theresienstrasse, line U2; Odeonsplatz or Universität, lines U3 and U6.
Bus: lines 100 and 154.