Built between 1867 and 1908 in striking Neo-Gothic style, Munich's New Town Hall, or Neues Rathaus, is one of the city's most emblematic buildings.
Munich's Neues Rathaus is a grand Neo-Gothic style building which stretches over 100 metres (328 feet) in length along Marienplatz, topped by an 85-metre-tall (278 foot) tower, the Rathausturm.
A rapidly growing city
The expansion of Munich in the 19th century saw the Old Town Hall become too small to serve the city, and prompted the need for a bigger city government offices. In the mid-1800s, several buildings were destroyed in Marienplatz, and construction began on the enormous New Town Hall.
Its Neo-Gothic design was inspired by the city halls of Brussels and Vienna, and the façade features intricate carvings representing local folk legends, religious stories and depictions of Munich's founders. 
A bird's eye view
The New Town Hall brings a stately feel to Marienplatz, and its Glockenspiel - the fifth largest clock in Europe - has a special place in the heart of visitors and locals alike.
We recommend heading to the Neues Rathaus in time to hear and watch the Glockenspiel's chime (daily at 11 am and 12 pm, plus 5 pm during the summer) which includes a re-enactment of a Medieval tournament, and then catching the lift up the tower (€3) for spectacular views over the city!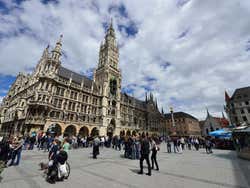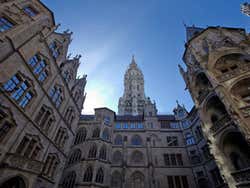 Transport
U-Bahn: Marienplatz, lines U3 and U6.
Bus: line 52.
S-Bahn: lines S1, S2, S3, S4, S6, S7, S8 and S27.