Fresh fruit and vegetables, artisan cheeses, colourful flowers and much much more fill the lively Viktualienmarkt, a historic market in Munich.
Located in the heart of Munich's Altstadt, the historic centre, Viktualienmarkt is an enormous food market where more than 140 vendors sell fruit and vegetables, flowers, cheese, meat, fish, spices and much much more.
Origins
When Marienplatz, the city's former grain market, became too small to act as Munich's main marketplace, King Maximilian I ordered it to be moved to a new and bigger location in the square between Heiliggeist-Kirche and Frauenstrasse. The early 1800s saw the demolition of church buildings in order to build Viktualienmarkt, and throughout the 19th century it was expanded, resulting in the large central market that can be visited today. 
Unmissable
With its name coming from a Latin word for food, "victuals", the Viktualienmarkt sells all sorts of culinary products, from fresh ingredients to hot snacks like the famous wurst, or sausages. The traditional maypole, a historic way to inform illiterate visitors of the city's trades and crafts, is a popular meeting place.
We recommend heading to Viktualienmarkt on a sunny day, grabbing a picnic from the market and sitting in the beer garden to enjoy your food and watch the world go by!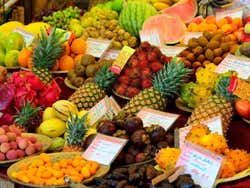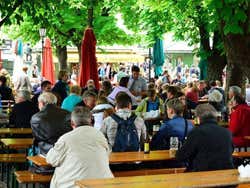 Schedule
Monday to Friday: 10 am to 6 pm.
Saturday: 10 am to 3 pm.
Transport
U-Bahn: Marienplatz, lines U3 and U6.
S-Bahn: lines S1 and S8.
Bus: Viktualienmarkt, line 52.