Munich's Olympiaturm is a TV Tower that has become one of the most emblematic buildings in the city's Olympic Park. It has an observation deck, a revolving restaurant and a rock n roll museum!
With a height of 291 meters (955 feet), the Olympic Tower is Munich's tallest building and one of its most emblematic structures and attractions, welcoming thousands of tourists daily.
As well as an observation deck, which offers bird's eye views over the Olympic Park and the city skyline from afar, the Olympiaturm has a revolving restaurant where diners can enjoy their meal alongside panoramic vistas of the surrounding area.
Bird's eye view of Olympiapark
The Olympiaturm is located outside of the city center, so its observation deck is ideal for views over the Olympic Park rather than of Munich itself. If you're looking for a bird's eye view of the historic center, we recommend the St Peter's Church or New Town Hall towers instead.
The Olympic Tower is worth a visit if you're in the area to see nearby attractions like the BMW complex or Munich's Sea Life Center.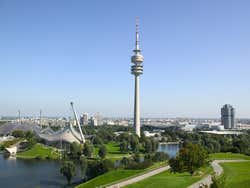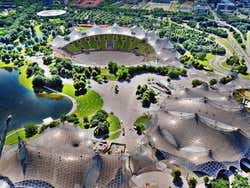 Schedule
Daily from 9 am to midnight.
Price
Adults: € 13 (US$ 13.90)
Children under 16 years old: € 10 (US$ 10.70)
Children under 16 years old: Free
Showing your ticket to any of the following attractions gives a discount of €1 for adults and 50 cents for children: Olympic Park tour, the park train, SEA LIFE, BMW Welt, and BMW Museum.