The original inspiration for Walt Disney's castles, Neuschwanstein Castle is a fairytale palace surrounded by stunning scenery. Discover its history and how to get there from Munich.
A fairytale palace constructed under the orders of the eccentric yet introverted Ludwig II of Bavaria, or Mad King Ludwig as he has come to be known by many, Neuschwanstein Castle is one of Germany's most popular tourist destinations.
A fantasy project
Construction began on Neuschwanstein Castle in 1869, but, like most of King Ludwig's ambitious building plans, it was never completed. He designed the palace himself with the vision of a stage more than a home - and naturally was aided by a stage designer rather than an architect.
Despite being built in Medieval style, the castle boasted the latest technological innovations of its time, including a central heating system, hot and cold running water, and automatically-flushing toilets.
Neuschwanstein reflected Ludwig's dreams and ideals to a T. Inspired by the works of Wagner, his friend, and the object of his obsessions, the castle would have had over 200 rooms had it been completed. Among the fifteen built according to the King's wishes, two highlights are a Tristan-and-Isolde-themed bedroom complete with a spire-topped bed, and a Byzantine-style throne room that has no throne but whose mosaic floor contains more than two million stones.
A dream that became reality
Known worldwide as a symbol of romantic architecture as well as for the curious life story of the man who created it, Neuschwanstein Castle is a spectacular building whose magic is felt by all who visit it, to the extent that it inspired Walt Disney's Sleeping Beauty castle.
Open to the public since 1886, just weeks after King Ludwig's death, these days the Castle receives around 10,000 visitors a day in high season, reaching over 1.4 million visits per year.
Located on a dramatic hill above the village of Hohenschwangau around 80 miles, or 130 km, from Munich's city center, Neuschwanstein makes for the perfect day trip from Munich. As well as its impressive architecture, you'll be captivated by its breathtaking views over the surrounding Bavarian mountain scenery.
Visiting Neuschwanstein from Munich
Booking a guided tour is the easiest way to visit the magical Castle. For € 45 (

US$

49.50) you can enjoy return transport from Munich's city center and a knowledgeable English-speaking guide: Neuschwanstein Castle Day Trip by Train. Alternatively, for € 54 (

US$

59.40) you can combine this with a visit to another of the Mad King's Castles: Linderhof Palace. Take a look at our Excursion to Neuschwanstein Castle and Linderhof Palace here.
Public transport is more economical, at around € 32 (

US$

35.20), but it's a lot slower. You'll take the train from Munich Hauptbahnhof to Füssen, and from there take the number 78 bus to Schwangau, getting off at Hohenschwangau Neuschwanstein Castles. It's then a 25-minute walk up to the castle itself.
If you're happy driving, renting a car is another easy way of reaching Neuschwanstein: it's about an hour and 45-minute drive from central Munich.
If you're not booking a guided tour in advance, tickets can be reserved online before you travel or bought at the ticket office in Hohenschwangau. In both cases, tickets must be picked up from the Hohenschwangau Ticketcenter.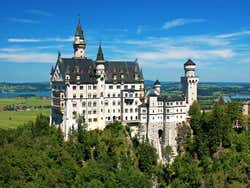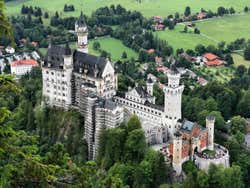 Schedule
Daily (except 1 January and 24, 25, and 31 December):
April to 15 October: 9 am - 6 pm.
16 October to March: 10 am - 4 pm.
Ticketcenter opening times:
April to 15 October: 7:30 am - 5 pm.
16 October to March: 8:30 am - 3 pm.
Price
Adults: € 13 (US$ 14.30).
Students, disabled people, and seniors over 65 years old with valid ID: € 12 (US$ 13.20).
Children under 18 years old: free.
Combined Königsschlösser ticket for Neuschwanstein, Linderhof, and Herrenchiemsee  (valid for six months): € 26 (US$ 28.60).
Neuschwanstein Castle Tour € 69 (US$ 75.90)