Built on the remains of a Romanesque church between 1468 and 1525, Munich Cathedral - locally known as Frauenkirche - is the biggest church in the city.
Munich Cathedral, officially "Dom zu Unserer Lieben Frau" or the Church of Our Dear Lady, is most commonly known as Frauenkirche. Built on top of a Romanesque church that dated back to the 12th century, the enormous Gothic-style Cathedral was completed in 1488, with the domes crowning its towers in 1525.
About Frauenkirche
The Cathedral itself is a red-brick construction, and has a very simple design, in part due to a lack of funds while it was being built. It was only in 1525 that its towers - which are easily visible throughout the city at 99 metres (325 feet) in height - were finally covered with peculiar green domes.
Much of Frauenkirche's interior was destroyed World War II, but what survived has been carefully restored, and the Gothic nave, several original stained-glass windows, a collection of 14th to 18th century artwork, and the tomb of Holy Roman Emperor Louis IV are major attractions.
One of the Cathedral's most striking details is the so-called "Devil's Footprint", Teufelstritt in German, a black mark that looks like a footprint, and around which many mysterious legends revolve!
It may not be the most extravagantly decorated of churches, but Frauenkirche's location in the heart of the city centre - and its skyscraping towers - make it unmissable!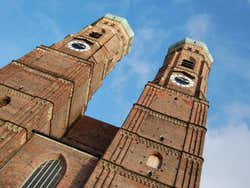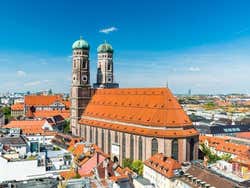 Schedule
Daily from 7:30 am to 8:30 pm.
Transport
U-Bahn: Marienplatz, lines U3 and U6.
S-Bahn: lines S1, S2, S3, S4, S6, S7, S8, S27, SP1 and SP2.
Bus: line 52.