Built for the 1972 Summer Olympic Games, the Olympia Park is a large complex that often hosts cultural, social and sporting events. The lake, swimming pool and ice-skating rink are all open to the public.
While its original purpose, the 1972 Olympic Games, has long passed, Munich's Olympiapark remains one of the city's most popular tourist attractions. Historically, this area has been used by the army and was the site where the world's first Zeppelin landed in 1909; nowadays, visitors can attend festivals, concerts and football matches here, or simply enjoy strolling around the 740 acres of green space.
A walk in the park
The Olympiapark exceeds expectations as a park. As well as your usual tree-dotted grass-covered hills, perfect for a picnic on a sunny day, there's a swimming pool, an ice skating rink, a Sea Life Aquarium, a lakeside cinema and outdoor performance venue, the Olympic arena and FC Teutonia Munchen's football stadium; the Olympiasee lake... the list goes on. 
Whether you want to check out a concert, stroll along the Munich Walk of Stars, take a boat trip on the Olympic Lake, or - of course, it is Munich after all - enjoy a stein in the beer garden, there's something for everyone! The park also offers guided tours and a tourist train, if you really want the full experience.
Olympiaturm
One of the most popular attractions of the park is the Olympiaturm, a 291-metre-tall (955 foot) television tower that offers spectacular panoramic views from the observation deck, as well as having a revolving restaurant.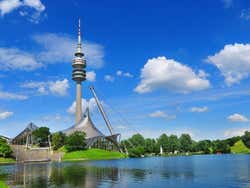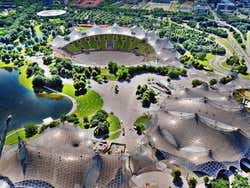 Transport
U-Bahn: Olympiazentrum, lines U2 and U3.
Bus: line 173.