Housed across several Gothic buildings, Munich's Stadtmuseum showcases the city's history and culture from the Middle Ages to today.
Located in the historic city arsenal and stables, both buildings from the Gothic period, the Museum of the City of Munich, or Münchner Stadtmuseum in German, is dedicated to telling the city's history from its foundation in the Middle Ages to life in the modern metropolis today.
Exhibitions
The Stadtmuseum is home to an extensive collection of objects which represent the city in diverse ways. These have been carefully exhibited across a number of different collections:
National Socialism in Munich: a powerful exhibition which allows visitors to understand how and why the city became the "capital of the Nazi movement".
Musical instruments: with over 6000 instruments, more than half of which are from outside of Europe, this is one of the most important exhibitions of its kind. Visitors can even use some of the instruments to create their own sounds!
Puppet theatre & fairground attractions: from vintage puppets to paraphernalia from Oktoberfest, this collection explores the cultural history of puppetry in Munich and around the world.
Typical Munich!: this exhibition is dedicated to the development of a city identity, taking visitors on a journey through the timeline of Munich's history and culture.
An interesting museum
One of the biggest museums of its kind in Germany, the Munich City Museum makes for a fascinating visit for those interested in knowing more about the Bavarian capital's history and culture in a simple and well-laid out way.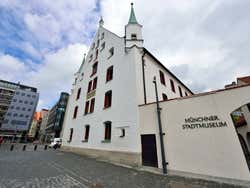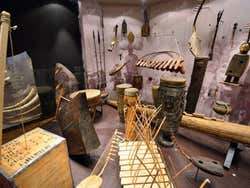 Schedule
Tuesday to Sunday: 10 am to 6 pm.
Mondays: closed.
Price
Adults: € 4 (US$ 4.30)
Students: € 2 (US$ 2.20)
Transport
U-Bahn: Sendlinger Tor, lines U1, U2, U3, U6 and U7; Marienplatz, lines U3 and U6.
Tram: lines 27 and 28
Bus: lines 52 and 62.