Founded in 1855 by Maximilian II, the Bavarian National Museum has become one of the most important decorative arts museums in Europe, and one of the largest in Germany.
Housed in an attractive historic building that opened in 1910, the Bavarian National Museum (Bayerisches Nationalmuseum) was founded in 1855 by King Maximilian II of Bavaria and throughout its history, it has become one of the best decorative art museums in Europe.
Exhibitions
One of the largest art museums in Germany, the Bavarian National Museum is home to an enormous display of European artifacts, dating from late antiquity to the early 20th century, much of which originates from the private collection of the Wittelsbach family. The exhibitions fill more than forty rooms spread over three floors.
The exhibitions include a varied range of artwork from carved ivory to musical instruments; goldsmith works to textiles and tapestries; glass painting to suits of armor; and Gothic, Renaissance, Baroque, and Rococo paintings, sculptures, and shrines... plus much more!
One of the most striking parts of the museum is its extensive collection of Nativity scenes. Handcrafted and dating from the 15th to 19th centuries, you can see everything from nativities created in precious materials to ones including monkeys, crocodiles, and hippopotamuses.
An interesting visit
Fans of the decorative arts will find the Bavarian National Museum a haven of fascinating works; its immense collection certainly makes for an interesting visit, but you'll need a good two hours at least to visit the different exhibitions!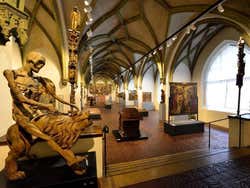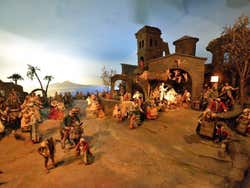 Schedule
Tuesday to Sunday: 10 am to 5 pm (Thursdays until 8 pm)
Mondays: closed.
Price
Adults: € 7 (US$ 7.50)
Students: € 6 (US$ 6.50)
Children under 19: Free
Transport
U-Bahn: Lehel, lines U4 and U5.
Tram: Nationalmuseum, line 17.
Bus: Nationalmuseum, line100.