Dating back to the 12th century, St Peter's Church, or Peterkirche, is Munich's oldest Catholic church and one of the most important symbols of the city. 
Located in the heart of Munich, St Peter's Church - Peterskirche in German - is the city's oldest Catholic church. While a church has been located here since the 8th century, the building itself dates back to the 12th century. It has been reconstructed numerous times following fires and wars over the past 800 years.
Inside Peterskirche
A faithful representation of its lengthy history, the church's interior is a mix of Gothic, Baroque and Rococo architectural styles, amongst which the St-Martin-Altar and ceiling fresco by Johann Baptist Zimmermann are particular highlights.
One of the features of Peterskirche that often attracts visitors' attention is the second chapel on the left, home to a somewhat unusual relic: the bejewelled skeleton of Saint Munditia, covered in gold and decorated with precious stones. 
Bird's eye view
If you're feeling energetic, climbing up the church tower, or "Alter Peter" (Old Pete) as it's popularly known, is well worth the effort. At 92 metres in height (300 feet), there are 306 steps separating you from one of the best views of the historic centre of Munich.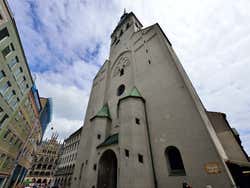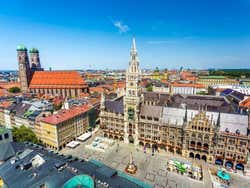 Price
Entry to the church is free.
Tower:
Adults: € 2 (US$ 2.20)
Students: € 1 (US$ 1.10)
Transport
U-Bahn: Marienplatz, lines U3 and U6.
Bus: line 52.
S-Bahn: lines S1, S2, S3, S4, S6, S7, S8 and S27.