Munich's contemporary art museum, the Pinakothek der Moderne, is home to an extensive collection of modern art, works on paper, architecture and design.
Located in a vast concrete building in the Kunstareal, or "Art District", the Pinakothek der Moderne is an enormous contemporary and modern art museum. The building itself took over a decade to build, and is characterised by its large windows, long columns, and an immense domed rotunda over the central atrium.
Visiting Pinakothek der Moderne
Each of the four corners of its Modernist-style home are dedicated to a different collection: art, design, works on paper and architecture.
Modern art: constantly expanding with additions of new purchases and donations, this collection showcases some of the most important artistic movements of the 20th century, including major works of Expressionism, Cubism, Surrealism, Pop Art and Fauvism.
Contemporary art: this extensive collection covers artwork from 1960 onwards, including a number of important international pieces by artists such as Andy Warhol and David Hockney.
Work on paper: with its origins in the private collection of the Wittelsbach family, this part of the museum showcases German, Dutch and Italian drawings, including works by Dürer, Michelangelo, da Vinci and Matisse.
Architecture: originally started with a donation from Mad King Ludwig, this collection spans photography, models, blueprints and computer animations surrounding the work of important architects.
Design: with over 70,000 objects of different areas of design, this collection is one of the most important applied arts exhibitions in the world.
For modern art fans
Munich's Pinakothek der Moderne is a comprehensive and important modern and contemporary art museum, and a must-visit for those who share this passion.
If you can't get enough of art in the Bavarian capital, the Kunstareal district is full of museums and galleries, and for the price of €12, the Day Pass will give you access to the different Pinakotheken (Alte Pinakothek for 14th to 18th century art; Neue Pinakothek for 19th century German art); the Brandhorst Museum for more contemporary art; and the Schackgalerie, or Sammlung Schack (19th century German art).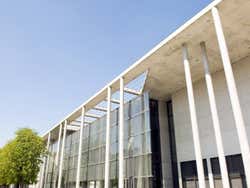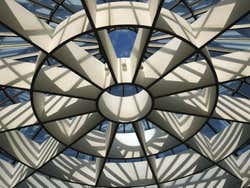 Schedule
Tuesday to Sunday: 10 am to 6 pm (Thursdays until 8 pm).
Mondays: closed.
Price
Adults: € 7 (US$ 7.50)
Concessions: € 5 (US$ 5.40)
Wednesdays: free.
Sundays: € 1 (US$ 1.10).
Transport
Tram: Pinakotheken, line 27.
U-Bahn: Königsplatz or Theresienstrasse, line U2; Odeonsplatz or Universität, lines U3 and U6.
Bus: lines 100 and 154.