Looking more like a fairytale castle than a town hall, Munich's Altes Rathaus has been at the heart of the Bavarian capital for over 700 years.
First documented in 1310, Munich's Altes Rathaus - literally Old Town Hall - was built in Gothic style between 1470 and 1480, although it has undergone many reconstructions over the centuries.
Inside the Altes Rathaus
While its exterior may seem relatively simple in design compared to the other buildings that line Marienplatz, inside the Old Town Hall visitors can admire well-preserved Medieval features such as a beautiful ceiling of wooden beams and golden details.
The building also has an impressive 55-metre-tall (180 foot) tower, which was one of the five city gates built in the 12th century defensive wall - even before the construction of the city wall gates that can be seen today! The tower, known as Talburgtor, today houses a Toy Museum or Spielzeugmuseum with a collection of toys dating back to the 19th century.
An interesting visit
While the Altes Rathaus' tower doesn't offer the same panoramic views as the New Town Hall, the Old Town Hall is worth a visit to see the historic architecture.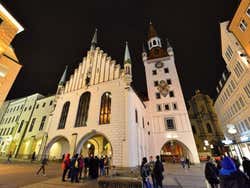 Transport
U-Bahn: Marienplatz, lines U3 and U6.
Bus: line 52.
S-Bahn: lines S1, S2, S3, S4, S6, S7, S8 and S27.