Munich's Deutsches Museum is the biggest museum of science and technology in the world, with an enormous collection of objects across 50 different fields.
With a diverse collection of over 28,000 objects showcasing fifty different fields of science and technology, the Deutsches Museum is the largest museum of its kind in the world and the biggest museum in Munich.
The museum is divided into four separate locations: the main building located on Museumsinsel; the Flugwerft Schleissheim aviation museum located north of Munich city center; the Verkehrszentrum on Theresienhöhe, which is dedicated to transportation technology; and a branch in the city of Bonn. A combined ticket to visit all three Munich-based museums (valid for 12 months) is € 21 (US$ 22.40) per person.
Visiting the Deutsches Museum
Founded in 1903 and reformed following the Second World War, the German Museum of Masterpieces of Science and Technology, as it's officially known, is an enormous building located on a small island in the Isar River. It's estimated that it would take eight whole days to see its tens of thousands of objects completely! 
Its exhibitions are diverse and cover fields from mining to aerospace engineering; from ceramics to amateur radio; music, bridge building, technical toys, and textiles... there's even a reproduction of a Spanish cave with stone-age paintings and a planetarium, and much more!
As well as the permanent collections, the Deutsches Museum also offers interactive and multimedia tours, including liquid nitrogen experiments and the opportunity to extract your own DNA!
Before you go...
Remember, this is an enormous museum! It can be difficult to navigate and fit in all the things you want to see. However, the museum has a free app available in English and German with maps allowing visitors to find their way around easily and to discover more information about the exhibits - particularly useful as certain features are only available in German! We recommend having a look at the museum map before you visit to plan your trip.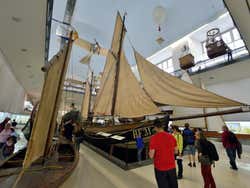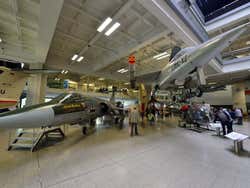 Schedule
Daily from 9 am to 5 pm.
Closed on certain public holidays around Easter, Christmas and New Year.
Price
Adults: € 15 (US$ 16)
Children 6 - 17: € 8 (US$ 8.50)
Transport
S-Bahn: Isartor.
U-Bahn: Fraunhofer Strasse (lines U1 and U2).
Tram: Deutsches Museum (line 16) or Isartor (line 18).
Bus: Boschbrücke (line 132).