Located in a modern building in Sankt-Jakobs-Platz, the Jewish Museum showcases the history, culture and art of Jewish community in Munich.
Housed in a modern free-standing cube with a completely transparent ground floor lobby, Munich's Jewish Museum (Jüdisches Museum München) was opened with the intention of showcasing Jewish history, culture and art.
Exhibitions
Spread over three floors, the permanent and temporary collections focus on the life and culture of Munich's Jewish community. There are collections detailing different Jewish religious holidays; exhibitions on the diversity of Jewish identities; and areas focussing on the subjects of migration and inclusion.
While the Holocaust is covered, it is not the museum's main focus, and insight instead is given into the contemporary life of Munich's Jewish community, rather than the city's role in Nazi Germany.
Munich's Jewish Museum is not necessarily a visit that will pique everyone's interest; if you're looking for a more in depth look into the history of the Holocaust in Munich, we recommend visiting Dachau Memorial Site instead.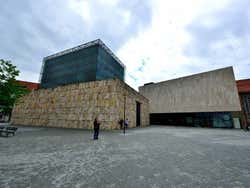 Schedule
Tuesday to Sunday: 10 am to 6 pm.
Mondays: closed.
Price
Adults: € 6 (US$ 6.40).
Concessions: € 3 (US$ 3.20).
Under 18s: Free.
Transport
U-Bahn: Sendlinger Tor, lines U1, U2, U3, U6 and U7.
Tram: lines 27 and 28.
Bus: lines 62 and 117.