Built in the 16th century, St Michael's Church in Munich is a magnificent Jesuit temple known for being the largest Renaissance church north of the Alps.
Built between 1583 and 1597 as a spiritual centre for the Counter Reformation, the Jesuit Church of St Michael (Michaelskirche in German) is an impressive Renaissance-style temple.
Michaelskirche inside and out
The church's striking main façade features bronzes sculptures of members of the early Wittelsbach rulers of Munich. Standing out between the two entrances is an imposing statue of St Michael the Archangel fighting a human-like demon - representing the triumph of good over evil, or maybe more specifically the triumph of Catholicism over Protestantism?
Symbols of the Counter-Reformation continue inside, where the most magnificent feature is the unsupported barrel-vaulted ceiling. Spanning more than 20 metres (65 feet), it is the largest of its kind in the world apart from that of St Peter's Basilica in Rome.
St Michael's crypt is home to the final resting places of a number of historical figures, including notable members of the Wittelsbach family as well as Mad King Ludwig.
An impressive visit
St Michael's Church is one of the biggest and most striking Jesuit churches in the world, and its location on one of Munich's busiest main streets makes it a good option for a quick but peaceful escape from the hustle and bustle of the city.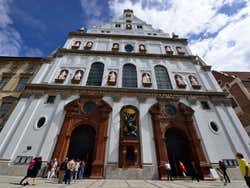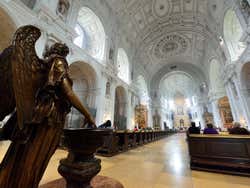 Schedule
Crypt open Monday to Friday 9:30 am to 4:30 pm; weekends 9:30 am to 2:30 pm.
Transport
U-Bahn: Karlsplatz, lines U4 and U5.