Known locally as Stachus, Karlsplatz is a square located in the heart of Munich built in the 18th century after the Medieval city wall was demolished.
Popularly known as Stachus after a historic pub that was located there (top tip: even the U-Bahn and S-Bahn use the unofficial name!), Karlsplatz is one of Munich's large city squares and home to a number of monuments. Built in the 18th century after the Medieval walls were demolished, the only part of the fortifications that remain is the Karlstor, one of the old city gates. 
Karlsplatz at a glance
The ever-lively Karlsplatz is a popular meeting point, joined to the historic Marienplatz by one of the city's most important shopping streets, Neuhauserstrasse.
Visit Karlsplatz for the following monuments and landmarks:
Karlstor: built to give access to the city through the Medieval fortified wall and reconstructed in striking Neo-Gothic style, Karlstor is one of Munich's best known city gates.
Fountain & ice rink: during the summer months, a large fountain is the beautiful focal point of Stachus, while in winter, an open-air ice rink is installed.
Justizpalast: an elegant Neo-Baroque style construction with a glass and steel dome, the Palace of Justice is the most impressive building in the square.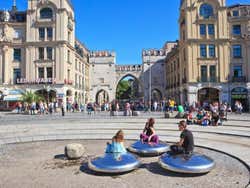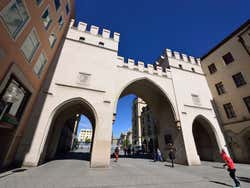 Transport
U-Bahn: Karlsplatz, lines U4 and U5.
Tram: lines 16, 17 and 18.
S-Bahn: lines S1, S2, S3, S4, S6, S7, S8, S27, SP1 and SP2.