An exhibition centre, museum and event venue dedicated to all things BMW, the BMW Welt is Bavaria's most visited tourist attraction. Shop for a high-tech new car, watch motorbike stunts, or just admire the impressive contemporary architecture.
Located in an awe-inspiringly futuristic glass-and-steel building located next to the world headquarters for BMW, and in front of Munich's Olympiapark, BMW Welt is home to exhibitions and experiences to entertain the whole family, whether you're a petrol head or not!
Discovering BMW Welt
As well as the place to go if you're picking up your custom top-of-the-range vehicle, BMW Welt is a showroom for the latest models of the brand's cars and motorcycles and offers driving experiences too if you fancy taking your dream car for a spin. It also has a dedicated Junior Campus, where kids can get design their own vehicle and learn about engineering, making it a fun day out for the entire family.
BMW Welt has a number of restaurants and bars to suit a range of tastes, and if all this wasn't enough, if you spend long enough there you'll probably get to see one of the incredible stunts like motorcyclists riding down the stairs! There's a reason this is the region's most visited tourist attraction.
Continue the pilgrimage
If visiting the BMW Welt isn't enough for you avid motorists, Munich is also home to the BMW Museum, where you can discover the history of the brand and admire everything from vintage models to sci-fi-worthy prototypes of cars, bikes and even aircraft. 
Within the BMW Welt, you can also tour the facilities of the BMW Factory, learning how these iconic vehicles are designed and assembled.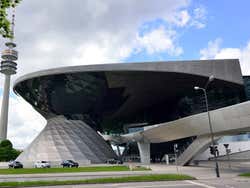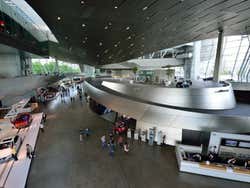 Schedule
Building: Monday to Saturday from 7:30 am to midnight. Sundays from 9 am to midnight.
Exhibition: daily from 9 am to 6 pm.