Opened in 2009, the Brandhorst Museum in Munich is home to more than 1200 pieces of modern art housed in a striking building covered in colourful ceramic tiles.
A striking rectangular building covered in more 36,000 vertical ceramic tiles in 23 different coloured glazes, the exterior of the Brandhorst Museum is a work of art in itself. It was opened in 2009 to exhibit the private modern art collection of Udo Fritz-Hermann and Anette Brandhorst.
Exhibitions
The more than 1200 pieces of modern artwork by artists from all over the world date from the 1950s to today. Amongst the highlights of the museum are Europe's largest collection of works by Andy Warhol, and an extensive range of art by Cy Twombly, who was a favourite of Fritz-Hermann and Brandhorst.
Other areas of the Brandhorst Museum cover the neo-avant-garde movement of the 1960s and 1970s; postmodernist artists like Jeff Koons; and works by contemporary painters including Laura Owens, Jacqueline Humphries, Monika Baer and Wade Guyton.
Modern art fans
The Brandhorst Museum is focussed towards those interested in modern and contemporary art, and may not be to the taste of all visitors. Pop by to snap a few photos of the architecture if you're in the Kunstareal area - Munich's "Art District" - visiting any of the city's other museums: the Alte Pinakothek (14th to 18th century art), the Pinakothek der Moderne and Brandhorst Museum (both contemporary art) and the Schackgalerie, or Sammlung Schack (19th century German art).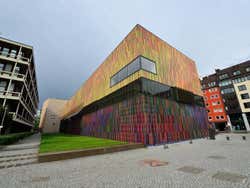 Schedule
Tuesday to Sunday: 10 am to 6 pm (Thursdays until 8 pm)
Mondays: closed.
Price
Adults: € 7 (US$ 7.50).
Concessions: € 5 (US$ 5.40).
Sundays: € 1 (US$ 1.10).
Transport
Tram: Pinakotheken, line 27.
U-Bahn: Königsplatz or Theresienstrasse, line U2; Odeonsplatz or Universität, lines U3 and U6.
Bus: lines 100 and 154.