Munich's Hofbräuhaus Brewery
With a history dating back to 1589, the Hofbräuhaus Brewery has become Munich's most popular beer hall and one of the most famous in the world.
According to legend, Wilhelm V, Duke of Bavaria and a member of the Wittelsbach family, found the beer in Munich so bad that he commissioned his own state brewery. The Staatliches Hofbräuhaus was thus born, and 1589 saw the construction of the Hofbräuhaus that we know and love today.
A legendary history
After centuries of producing beer for the royals, in 1828 the Hofbräuhaus was opened to the public by King Ludwig I of Bavaria. The beer hall quickly became the centre of public and political life in Munich, counting famous names such as Mozart and Lenin amongst its regular customers.
The brewery's significant role as a meeting place for political figures led to it witnessing a number of important historic events. In 1919 the Munich Communist Government established their headquarters in the Hofbräuhaus, and in 1920 the Festsaal saw the first meeting of Hitler and the National Socialist Party.
Having been almost completely destroyed by World War II bombings in 1945, it underwent over a decade of restoration work, finally reopening in 1958.
The Hofbräuhaus today
Every day, more than 35,000 people visit the brewery's immense beer halls, making it one of Munich's main tourist attractions, especially during the annual celebration of Oktoberfest. Its fascinating history, elaborate traditional decor and - of course - diverse and delicious beers still brewed according to the Bavarian Purity Law make it a must-do experience during your trip to the city.
Top tip!
When you visit the Hofbräuhaus, it's perfectly normal to share a table with other people, but look out for signs indicating "Stammtisch". These are regulars' tables, an essential beer hall tradition. The oldest Stammtisch dates back 70 years, and the regulars keep their personalised beer mugs stored in the Hofbräuhaus' dedicated safes!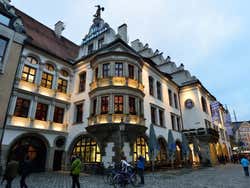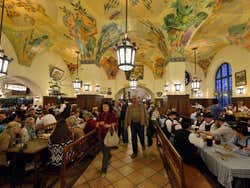 Schedule
Daily from 9 am to midnight.
Transport
U-Bahn: Marienplatz (lines U3 and U6).
S-Bahn: Marienplatz (lines S1, S2, S3, S4, S6, S7, S8, S27, SP1 and SP2).