An exquisite example of German Baroque style, St Johann Nepomuk Church is better known as the Asamkirche after the brothers who built in the 17th century.
Constructed by the Asam brothers, sculptor Egid Quirin Asam and painter Cosmas Damian Asam, between 1733 and 1746, St Johann Nepomuk Church is an extravagantly decorated example of the German Late Baroque style of art inside, and a Rococo masterpiece outside.
Originally built as the brothers' own private chapel, what it lacks in size, Asamkirche more than makes up for in spiralling columns, gilt garland-bearing cherubs and a complex ceiling fresco representing the life of St Johann Nepomuk.
Asam Church at a glance
Built as it is into a terrace of houses, Asamkirche is very narrow; despite this, passing through the ornamental façade, you'll find barely an inch of space without decoration. Rich stuccos, intricate carvings and enormous frescoes await you, carefully designed to enhance the light that enters the building. The Asam brothers' immense talent is immediately felt here.
It may be one of the smallest in Munich, but the Asam Church is definitely worth a visit to marvel at the treasure chest of art and architecture that it represents.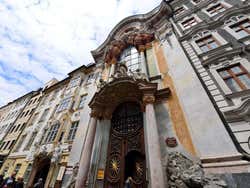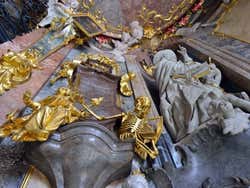 Schedule
Daily 9 am to 6 pm.
Transport
U-Bahn: Sendlinger Tor, lines U1, U2, U3, U6 and U7; Marienplatz, lines U3 and U6.